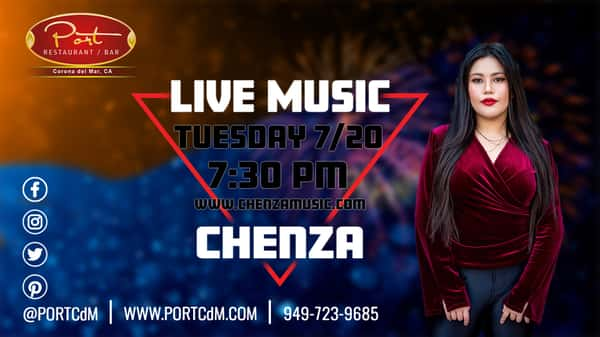 PortCdM welcomes Singer Songwriter Chenza Tuesday 7-20-2021
Join us at Port in the heart of Corona del Mar to enjoy a high-energy, live performance by Singer Songwriter Chenza on Tuesday 7-20-2021

Call (949) 723-9685 for table reservations.

About Chenza:

Similar to pioneering vocalists Jefferson Airplane's Grace Slick, Miley Cyrus, and Concrete Blonde's Johnette Napolitano, powerhouse singer and songwriter Chenza started singing at age 4 and is the youngest daughter of iconic Filipino singer and soul music pioneer RICO J PUNO.
At the age of 12, she started to teach herself how to play the guitar and write music. She shortly began to record, produce, and release her music independently while also performing cover songs on her Youtube channel. 

Chenza showcases her deep, sultry, and powerful vocals in folk, pop, experimental, and rock. 
Aside from her solo projects, Chenza went to front alternative rock band Room 4, with influences from Evanescence, Slash, Halestorm, and Siouxsie and The Banshees to name a few. In 2020, she becomes the vocalist for music duo Restless Balloons alongside producer Tigran Aslanyan.
Chenzas' official website